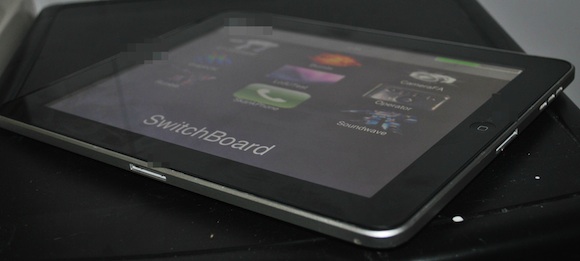 Apple is famously secretive about their prototype products, but every now and again one somehow manages to slip through the company's grasp. The most recent stray was an early prototype of the original iPad, built somewhere between 2009 and 2010, that showed up on eBay. The prototype is interesting not only from a collector's standpoint, but because it features a capability that never made release: Dual docking ports.
Though it has already been sold for a cool $10,200 (starting bid $4,800), the seller was kind enough to post numerous photos and provide a little information about the prototype. It boasts a 16 GB hard drive, a beta version of iOS 3.2, and runs the SwitchBoard software used by Apple to test their products. Unfortunately, the seller was unable to restore the device to complete functionality as the touchscreen was rendered mostly unusable.
Though I'm sure then-CEO Steve Jobs lost some sleep over the issue, it's easy to see why the dual connectors never made it to production. Though both would be fully functional, having two connectors would probably confuse customers as to which they were supposed to use. This is the same logic that prompted Apple to always have a single mouse button. Also, I can't imagine Jobs signing off on a device with any amount of redundancy; that would just be inelegant.
What's interesting, though, is that Apple did decide to prototype the design. If something like this was once inside Cupertino, one wonders what other strange treasures are lurking in Apple's R&D closet.
(via MacRoumors)